The practice of physical activity as a strategy to promote mental health has been the subject of increasing research and recognition in the scientific community in recent years. However, the adoption of this practice as a treatment is still under-exploited. Pharmacotherapy and psychotherapy are often the first strategies employed, but they are not always effective, hence the interest in identifying other means to treat mental health disorders. Physical activity can, on the one hand, reduce the risk of anxiety and depressive disorders and, on the other hand, be part of the treatment when they are diagnosed.
In a webinar entitled "Physical activity and mental health" offered by the Canadian Mental Health Association – Montreal branch, Isabelle Doré, professor at École de kinésiologie et des sciences de l'activité physique à la faculté de médecine de l'Université de Montréal and researcher at CHUM research center center took an interest in this subject. She shares her knowledge with us and shares her advice. According to the researcher, it is just as important to act upstream by promoting and preventing, as once the disorders have taken hold.
The benefits of physical activity intervention for mental health?
According to the researcher, several reasons justify the choice of physical activity as a means of intervention:
Editable behavior: this is behavior that can be acted upon. With effective support and encouragement, the intervention can enable a person to be physically active, either by introducing the practice into their life or by returning to it.
Very good accessibility: a lot of infrastructure and resources are in place to meet the needs of a person who wants to become or remain active.
Good acceptability: since physical activity is good for health, it is a behavior recognized as being positive and desirable.
Promotion of physical activity: Several campaigns to promote physical activity are already available.
Action on comorbidities: in addition to acting on mental health disorders as such, physical activity acts on comorbidities, that is to say on other health problems, whether they are diseases, cardiovascular disease, osteoporosis, diabetes and cognitive decline.
Types of physical activity that benefit mental health
Physical activity is any form of movement that results in energy expenditure. We can classify physical activities into four large families.
Leisure-time physical activity: swimming in a pool …
Physical transport activity: getting to work by bike, public transport, on foot …
Physical activity at work: the police, the building trades …
Domestic physical activity: gardening, cleaning …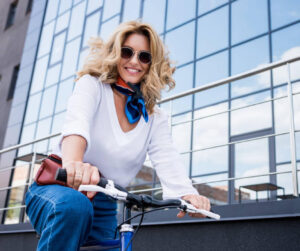 Some are known to have more benefits for mental health, namely physical activity for leisure and transportation. Physical activity at home does not appear to have an impact on mental health. However, it is very important for deconditioned people because it makes it possible to reintegrate physical activity into their daily life and to regain self-esteem as well as good relations with those close to them.
The expected effects of physical activity
Several studies have shown that physical activity helps to:
reduce depressive symptoms,
reduce psychotic symptoms,
reduce symptoms of schizophrenia,
decrease weight / obesity (related to taking antipsychotic drugs).
Physical activity has even been included in the Clinical Practice Guidelines of the Association of Psychiatrists (CANMAT). It is mentioned as a first-line treatment for major depressive disorders and as an adjunct to treatments for moderate to major depression.
An increase in the volume of physical activity (combination of frequency, duration, intensity) is associated with increased benefits for mental health and mental disorders. Overtraining, on the other hand, is a potential source of depressive symptoms or anxiety disorders: loss of appetite, loss of joy …
We also note that group physical activity would have more beneficial effects on mental health thanks to the social interactions generated. This is all the more true in sports teams whose members forge strong bonds with each other. This is reflected in the symptoms of anxiety and depression, which are less important when participating in group physical activity. In fact, we realize that people who do physical activity in groups rather than individually do more physical activity, which is very positive.
What is the impact of motivations on mental health?
As Professor Isabelle Roy indicates, not all motivations for physical activity are equal when it comes to mental health.
Intrinsic motivations provide benefits for mental health. These are the so-called self-determined motivations which are related to the following aspects:
Pleasure: wanting it to bring us pleasure
Competence: being able to set a goal or achieve it
Physical fitness: wanting to take care of yourself
Social aspect: finding other people
Extrinsic motivations, on the other hand, can pose a risk to mental health. We are referring here to reasons related to appearance, such as losing weight or gaining muscle mass.
How does physical activity affect mental health?
Biological Mechanisms
Physical activity acts on the action of neurotransmitters and thus promotes the secretion of serotonin (known for its antidepressant effect) and endorphin (associated with an analgesic, euphoric effect).
Studies also show that physical activity affects the neuroendocrine system. The more we move, the hotter we are, the faster the blood circulates and acts on the regulation of the stress hormone cortisol, which is a risk for anxiety and depressive disorders.
Psychological mechanisms
Physical activity allows you to break away from negative thoughts and rumination effects. It also leads to better self-esteem since physical activity helps to:
take care of yourself,
set and achieve goals,
make time for yourself.
Social Mechanisms
In small or large groups, physical activity increases social interactions. It helps to strengthen and develop social networks.
The more we have an enlarged or diversified network, the more we can have social support in the face of complicated situations of stress, distress… This has a positive impact on the level of mental health.
For many people, recreational physical activity is often one of the only opportunities to make new friends outside of work.
Move to be healthy …
mental.