The Public Health Agency of Canada estimates that 20-30% of seniors fall each year. It is therefore important to secure their environment and to study what actions can reduce the risk of falling. Especially since very easy changes can make a big difference and help prevent falls in seniors.
Risk factors
Three main factors are responsible for falls among seniors:
the person's state of health: motor, visual, cognitive …
the person's environment
medication: some medications have side effects that can increase the risk of falls.
It is important to check everything with a doctor or pharmacist.
The consequences of falls
Although one in three falls has no serious consequences, many leave significant consequences:
Craniocerebral trauma
Ecchymosis, laceration, etc.
Fractures
Hospitalization and possible stay in a rehabilitation center
Autonomy loss

Loss of quality of life
Afraid of falling again.
Fall prevention
Several solutions can be considered to prevent falls.
1 / Organize your home
Half of the falls, leading to hospitalization, occurred at home. The home is therefore one of the first things to develop to secure the environment for seniors.
The bathroom is one of the priority rooms in a house. Here are some points to consider:
replace slippery floors
install support bars
install a shower seat
provide a raised toilet seat
remove soft rugs
favor showers
install the shower head at hand height.
In general, the person should have easy access to everything, without having to bend or stretch. Obstacles must be removed in order to facilitate movement. In the other rooms of the house, remember to free the floor from any object that could cause a fall (shoes, thick carpet, electric cable, etc.).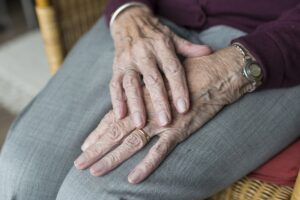 2/ Obtain specialized equipment
Whether it is an access ramp, a walking aid, a grab bar or an incline, there is a variety of specialized equipment to make transfers and movements safe. This equipment facilitates the use of the three support points which are often mentioned in the safety campaigns of the CSST (Commission for Health and Safety at Work) and which can be applied in the daily life of seniors. To properly climb and descend stairs, get out of a vehicle, get into the shower, walk in the hallway or cross the street, the use of a third point of support is important.
Used well, a cane, for example, can be a good ally. Another piece of equipment that can help the elderly in their movements is the walker or rollator, which offers essential assistance to some people with loss of autonomy.
There are also adjustable electric beds that make it easy to switch from lying down to sitting down. This type of equipment is often found in retirement homes.
Other equipment can also be very practical and make everyday life easier:
a long-handled pliers for picking up objects from the ground
a sockliner for easy dressing
a cart on wheels to transport objects
lights with motion detector
cushions with motion detector
a call alarm to call relatives
non-slip soles, especially for unfavorable weather conditions such as snow or ice.
3 / Maintain good physical condition
Strengthening the arms and legs goes a long way in reducing the risk of falling.
The Integrated Dynamic Balance Program (PIED) is an exercise program, created for seniors, to help them improve their balance, strength and posture of the lower limbs and reduce the risk of falls by information. This program is given in private residences for independent seniors, community organizations and CLSC.
Regular physical activity also helps maintain muscle strength, endurance, balance and good posture. It allows participants to keep their motor skills, their natural reflexes, their dexterity, their speed of movement.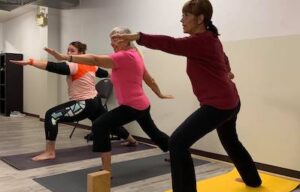 To practice physical activity at home safely, there are a few guidelines to follow:
wear soft and comfortable clothes
wear comfortable and safe shoes
place objects at least 5 feet away from you
move your pet to another room in the house
make sure you are able to contact someone in an emergency
progress at your own pace
listen to your body and take breaks when necessary
stay hydrated by drinking water regularly.
4 / Use an emergency call or medical alert system
Developed in partnership with the Ministry of the Family, the PAIR program is a FREE automated calling program. Daily calls at a predetermined time are made to the homes of those registered in the program to check that they are okay. If no one responds, a person is sent to the person's home.
There are now also devices in the form of bracelets, necklaces, … which allow the person who has fallen to contact a central help center at the push of a button. The central units then come into contact with respondents who can help the person on the ground.
5 / Continue to eat well and to drink
It is important to avoid undernutrition. Eating normally helps meet the body's energy needs. If it is complicated to prepare food,  ask a loved one for help or prefer meals prepared at the grocery store.
If people suffer from dysphagia, there are more and more companies that are preparing texture-modified meals.
Staying hydrated is also essential. For example, you can keep a bottle of water close to you to drink regularly throughout the day. You can also make water more attractive by adding fruit to taste. Using a bottle with a built-in straw can make it easier.
All of this good advice can reduce the risk of falls and help keep our seniors at home.
Sources:
https://www.lappui.org/en/Practical-tips/Safety-issues/Preventing-falls-in-the-home
https://www.espacemedic.com/conseils/prevention-des-chutes/
http://www.lavalensante.com/en/care-and-services/list-of-care-and-services/workshops-and-support-groups/fall-prevention-programme-integre-dequilibre-dynamique-pied/