Symptoms of multiple sclerosis
In Canada, around 100,000 people live with multiple sclerosis. It is a degenerative neurological disease of the central nervous system. Several symptoms are associated with this disease, including:
• muscular weakness,
• extreme tiredness,
• loss of balance,
• damage of cognitive functions.
Physical activity to treat the symptoms of multiple sclerosis
Many studies have shown that exercise is effective in treating the symptoms of this disease. Other studies have been conducted to check the effects of physical activity on the disease, but also its impact on the risk of developing the disease. As a result, practicing physical activities has beneficial effects on the body. For people with multiple sclerosis, it contributes to the improvement or maintenance of functional capacities (moving around, transferring, etc.), cardiovascular capacities, strength, cognitive functions and the quality of life. Physical activity can also reduce symptoms of tiredness and depression and decrease the risk of developing other chronic diseases. It is even suggested as a medicine for people living with multiple sclerosis.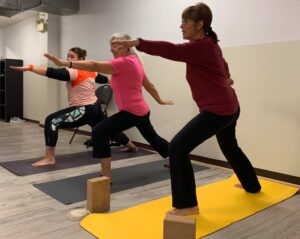 Neuro Flexibility session offered by NeuroMotrix,
ideal for people with multiple sclerosis
A new approach developed and validated
It is good to know that improvements are possible, it is still necessary to know the right dosage to get there. The physical activity recommendations for people with multiple sclerosis come from a very interesting guide published in 2013: "Canadian guidelines for adults with multiple sclerosis (PAG)". He recommends that people with this condition do 30 minutes of mild to moderate aerobic exercise and muscle building exercises twice a week to get interesting results. Most recently, a study by Canning and Hicks (2020) has validated the benefits for people who follow the recommendations in this guide.
Scientific evidence shows that the recommended dose is effective in improving the physical condition and health of people with multiple sclerosis. Study participants were required to complete a one-hour to one-and-a-half hour exercise program twice a week. Each program was tailored to the needs of the participants and was changed every four weeks to keep progression and motivation constant. The programs were built in three parts: ten minutes of aerobic exercise, two to three sets of about eight to ten different bodybuilding exercises for the upper and lower body, then another twenty minutes of aerobic exercise.
The results of the study are very conclusive. The participants with multiple sclerosis who participated in the program experienced, after 16 weeks of practice:
a 29% increase in maximum oxygen consumption
up to 18% increase in muscle strength
improved walking speed, making it easier to carry out activities of daily living and maintain autonomy
a 36% decrease in fatigue symptoms
a 17-22% increase in quality of life related to mental and physical health
Another important element was that participants were able to complete the exercise program without further increase in pain or discomfort.
This study highlights the effectiveness of the recommendations in the guide "Canadian Physical Activity Guidelines for Adults with Multiple Sclerosis" as well as their feasibility and acceptability in this population.
Adapt the objectives to everyone's needs
Physicians and health professionals should strongly encourage their patients to use these guidelines as a starting point for incorporating physical activity into their lives. Besides, it is important not to consider these recommendations as a limit, but rather as a basis on which to build.
The National Mutiple Sclerosis Society in the United States proposes to target 150 minutes of exercise per week for people suffering from this disease, while taking care to adjust the quantity and the choice of exercises to individual needs (Kalb et al. , 2020). Obviously, the achievement of this target must be done in a progressive and adapted manner, but it remains realistic and desirable for the majority.
Knowing that the population with multiple sclerosis is more sedentary than the general population, it is now important to find ways to make the practice of physical activities more accessible. People living with this disease should be able to enjoy the benefits of exercise since there is no longer any doubt that it improves their health.
Canning, K. L., & Hicks, A. L. (2020). Benefits of Adhering to the Canadian Physical Activity Guidelines for Adults with Multiple Sclerosis Beyond Aerobic Fitness and Strength. International journal of MS care, 22(1), 15-21. doi:10.7224/1537-2073.2018-061
Kalb, R., Brown, T. R., Coote, S., Costello, K., Dalgas, U., Garmon, E., . . . Motl, R. W. (2020). Exercise and lifestyle physical activity recommendations for people with multiple sclerosis throughout the disease course. Mult Scler, 1352458520915629. doi:10.1177/1352458520915629