The year 2020 has started and continues in a very strange way with the advent of COVID-19 which forces us to modify many of our lifestyle habits. The impacts of this pandemic are numerous, from social distancing to isolation to the burden imposed on the health system and the global economy, society will not emerge unscathed from this crisis.
Risks associated with coronavirus
In addition to posing a risk to the majority of people, COVID-19 constitutes an increased danger for the most vulnerable, especially people living with a chronic disease. Among these people are those suffering from Parkinson's disease, a neurodegenerative disease characterized by movement disorders and several non-motor symptoms such as tiredness, pain, digestive disorders, sleep difficulties, etc. In advanced stages, this disease can also affect the respiratory system. Although a portion of those affected are relatively young, the average age of diagnosis of this disease is 65 years, so it affects older people more. Already, we can imagine that a person living with Parkinson's disease who contracts this coronavirus is at high risk of complications since he is generally old and lives with a chronic disease. At this point, it is unknown whether COVID-19 would have a specific effect on people with Parkinson's, but in any event, it is best to minimize the risk of contamination. Thus, it is essential to offer them maximum protection so that they are not infected. This "protection" approach seems entirely justified. However, in the case of a pandemic, protecting people means above all isolating them, removing them from their social activities, from their exercise groups and preventing them from being around people. While the health risks of COVID-19 are great, the consequences of isolation are significant.
Risks associated with isolation and inactivity
In addition to the stress of living in a pandemic and the fear of contracting the virus, there are major changes in people's lives. Interruption of regular activities, lack of home care, and being out of touch with family and friends can make you feel moody, make you more depressed, and increase your level of anxiety. In addition, this situation often leads people to become more sedentary, with the serious consequences that it can have on their physical and mental health. This is especially true for people with Parkinson's who are generally more sedentary and who, in many cases, are already experiencing stress and anxiety. It goes without saying that this period of crisis can easily exacerbate these problems. Thus, some people with Parkinson's, already more vulnerable, will experience the effects of this crisis in an amplified way. It is not the risks of illness that will affect them, but the risks of isolation and disruption of their routine. This is corroborated by an international group of researchers who explain that fear, lack of resources (cancellation of non-emergency medical appointments, for example) and social isolation are factors which, due to stress and the physical inactivity they cause, increase the motor and non-motor symptoms of Parkinson's disease (Fasano, Antonini et al. 2020, Garg and Dhamija 2020). These researchers recommend the use of telecommunications to overcome these problems, as much for telemedicine as any other health service, including physical activity services.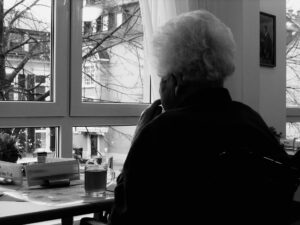 New opportunities for physical activity
To counter the effects of stress and confinement that can lead to a sedentary lifestyle and the worsening of symptoms, adopting a daily routine of physical activities is very effective. This is particularly true when it is carried out in a context which allows and encourages social contacts. In this regard, exercise routines offered on the web, by videoconference, have great potential that can not only meet current needs during the pandemic, but continue to do so after. Physical activity is known to help you feel better, both physically and mentally. In Parkinson's disease, physical activity clearly has a positive effect on symptom management and, according to several studies, could slow the progression of the disease. As mentioned by Helmich and Bloem (2020), two researchers from the Netherlands, one of the positive consequences of this crisis will have been, it is hoped, the emergence of offers of services on the Web (arts, dance, song, exercises, etc.). It allows people to stay active, even in confinement, and opens up new possibilities for those who have difficulty moving around or who do not have access to specialized services even in normal times.
A good time to take care of your health
In fact, this period, which may seem difficult for everyone, can also be a good time to stop and think about your lifestyle. Taken in a daily routine, we do not always have the energy or motivation to improve certain habits, like doing a little more exercise each day. Would physical activity be part of your personal solution to get through this ordeal? It can, indeed, play a big role during this crisis, in particular by reducing the level of stress. Creating a daily routine that includes physical activity is definitely a good way to stay healthy in body and mind.
Kinesiologists are very good allies to support you and guide you in your choice of exercises, according to your tastes and your abilities. They can tailor workouts by videoconference so that you can experience the pleasure and multiple benefits of being active on a daily basis. In addition to the positive impacts on the disease represented by physical activity by oxygenating the brain and promoting the transport of information between neurons, the sessions are encouraging, because it is possible to meet people who share the same motivation to take care of their health. Participating in adapted physical activity sessions is also a good way to take a break from all the information that flows from the media in addition to socializing and getting active! Be careful, some exercise sessions available on the Web may seem stimulating, but they cannot be adapted to your needs! Get informed before you start training to find the formula right for you.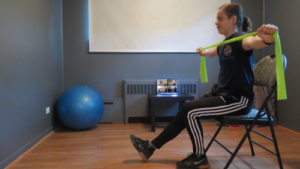 Adapted physical activity session by videoconference
offered by a kinesiologist from NeuroMotrix
Sources :
Fasano, A., A. Antonini, R. Katzenschlager, P. Krack, P. Odin, A. H. Evans, T. Foltynie, J. Volkmann and M. Merello (2020). « Management of Advanced Therapies in Parkinson's Disease Patients in Times of Humanitarian Crisis: The COVID-19 Experience. » Mov Disord Clin Pract 7(4): 361-372.
Garg, D. and R. K. Dhamija (2020). « The Challenge of Managing Parkinson's Disease Patients during the COVID-19 Pandemic. » Ann Indian Acad Neurol 23(Suppl 1): S24-s27.
Helmich, R. C. and B. R. Bloem (2020). « The Impact of the COVID-19 Pandemic on Parkinson's Disease: Hidden Sorrows and Emerging Opportunities. » J Parkinsons Dis 10(2): 351-354.